Thursday, April 1, 2010 at 12:47PM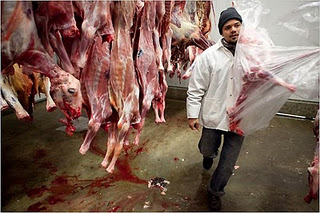 1. Slaughterhouse Five. Sure, local meat is great. But, if there aren't enough processing facilities to meet demand for the stuff, small farmers in the livestock biz may be forced to scale back. This article from the New York Times tells the woes of local meat economies. There are simply not enough slaughterhouses to go around. The scarcity is forcing farmers to reduce the size of their herds, schedule processing appointments months into the future, and drive long distances to have their animals slaughtered. Our friends David and Margaret Ann who run Snow's Bend Farm in Coker drove their pigs to a processor in Buhl, Alabama - the only processor in the area who had space for them during deer season. Agricultural Secretary Tom Vilsack is sympathetic and is encouraging small farmers to form local cooperatives or use mobile slaughtering units, and is offering some funds for such ventures. But ultimately, until the system changes, getting local meat from farm to table will continue to be difficult.
2. Green Giant. Tomatoes in the winter? You betcha. This really isn't an article about local foods, but it's good reading material, and an insight into the hothouse tomato game. Someone's gotta grow all those tomatoes consumers are eating out of season. At Backyard Farms in Madison, Maine, a whopping 42 acres (or for you football fans, that's 32 football fields worth) of tomatoes are grown under the glass of two super large greenhouses. These well-maintained tomato vines are grown sans dirt in a hydroponic mixture, without pesticides - the company often introducing beneficial insects into the greenhouses to control pests- and are pollinated by bees the good-old fashioned way. In contrast to most commercially grown tomatoes that are picked green and allowed to ripen during transit, the Backyard tomatoes are only harvested when ripe (hey, there's a concept!). Oh, and you probably guessed that these suckers take a lot of electricity to produce - in fact, when the greenhouse lights are in use, they consume in 32 minutes the same amount of electricity the average American household consumes in a year!
I'm staying local on this one. If you want to eat tomatoes in January, think ahead this summer and do a little home canning.
3. Hoop Dreams. Snowmaggedon was no match for the White House garden this winter. While the rest of the city fell prey to Jack Frost's wintry wiles, an army of hoophouses dutifully protected and shielded the garden's bounty. Check out this video from The White House - it has some really great time-lapsed footage of snow falling in the garden.
And speaking of hoops, back in December the USDA announced a new pilot project to study hoop houses as a season extension - part of their "Know Your Farmer, Know Your Food" initiative.
*Top two photos are from the New York Times